nanamica 2020 fall and winter collection
2020.06.09
When the storm passes, the ocean shows a face that is even more serene than usual. Dogs run along the sandy beach, the salty sea wind reaches the city, and sailors prepare to embark on a new journey. Your whole body feels and embraces the peaceful flow of time. This is the kind of comfort that nanamica now envisions with clothes making.
We will continue to develop high function materials as before, but also focus on the power of natural fibers given to us by mother nature to pursue ultimate comfort. We want to make clothing that is relaxing to wear at the office and at the seaside.
Beyond hybrid. That is where nanamica is setting course for.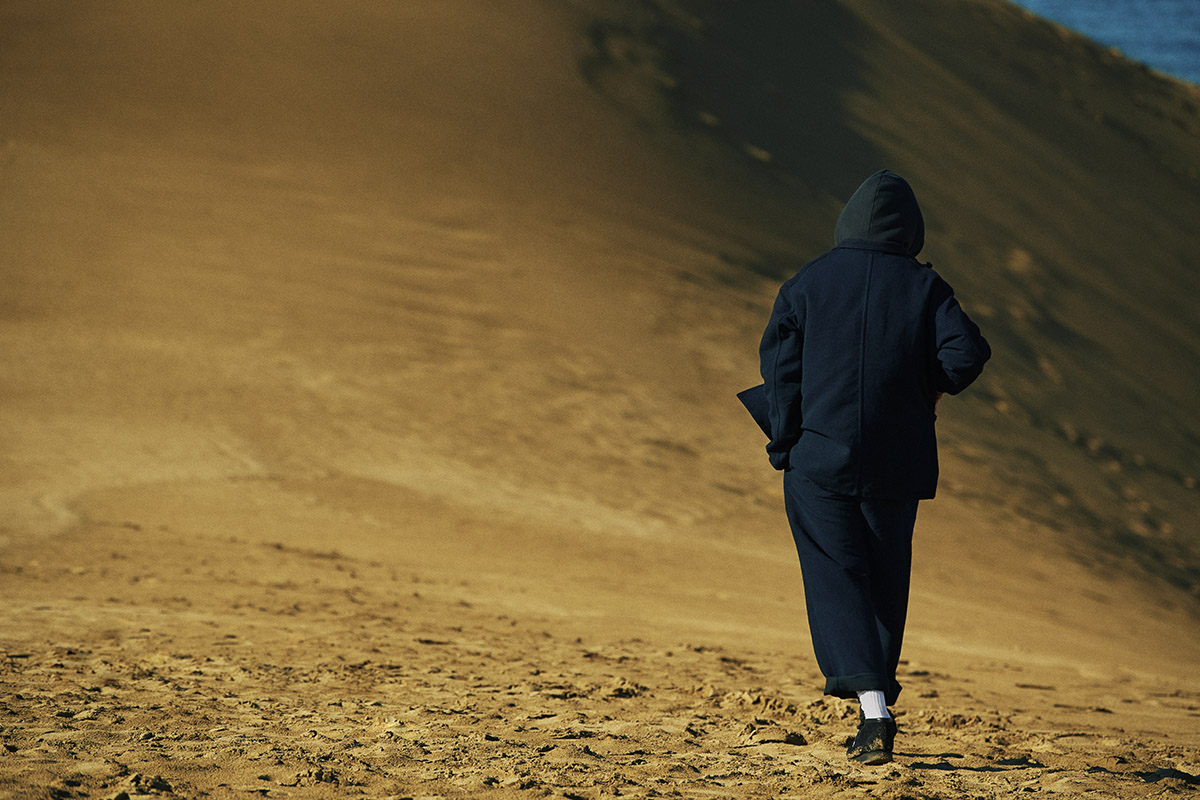 It feels so incredibly like tweed.​​​​​​​
At first glance it looks like thick tweed material. But the coverall and wide pants setup is surprisingly light and soft. This new texture is from the double-weave fabric (majotae). The surface is cotton hemp and acrylic wool and the back layer is polyester, which makes for fabric texture that has stiffness but also smooth.
Dock Jacket ¥52,000(+tax) SUAF038
Dock Pants ¥30,000(+tax) SUCF039
Hooded Pullover Sweat ¥23,000(+tax) SUHF024
This hooded coat also uses tweed-like double cloth material (majotae). The fabric texture is lightweight and the coat has a big silhouette, so you can layer a lot of clothing inside and it won't be too heavy. The essence of French workwear can be seen in throughout the coat, such as the change buttons and through pockets, which were features of work coats prior to the 1930s.
Dock Coat ¥65,000(+tax) SUBF037
Half Zip Sweater ¥28,000(+tax) SUJF040
Big and lightweight GORE-TEX coat.
​​​​​​​
Balmacaan coat made of new 2-layer Cotton Twill GORE-TEX Fabric. Pre-dyed cotton in different colors are used for the warp and weft of the fabric, creating a luxurious coat that is soft and lustrous. The inside fabric uses original house check fabric. This coat has a big silhouette, but the collar area is clean and compact.
GORE-TEX Balmacaan Coat ¥110,000(+tax) SUBF015
Half Zip Sweater ¥28,000(+tax) SUJF040
The Shell Coat is made in GORE-TEX PACLITE® PLUS material, which we have started to use this spring. Usually this material is made by layering GORE-TEX membrane between a surface layer and back layer making three layers, but the material for this coat has a special protective coating instead of the back layer, so that it is essentially two layers and ultra-lightweight. The surface layer is 40D nylon and has the hand feel of latest outdoor gear.
GORE-TEX Shell Coat ¥59,000(+tax) SUBF016
nanamican Fleece Jacket ¥35,000(+tax) SUHF063
Dock Pants ¥30,000(+tax) SUCF039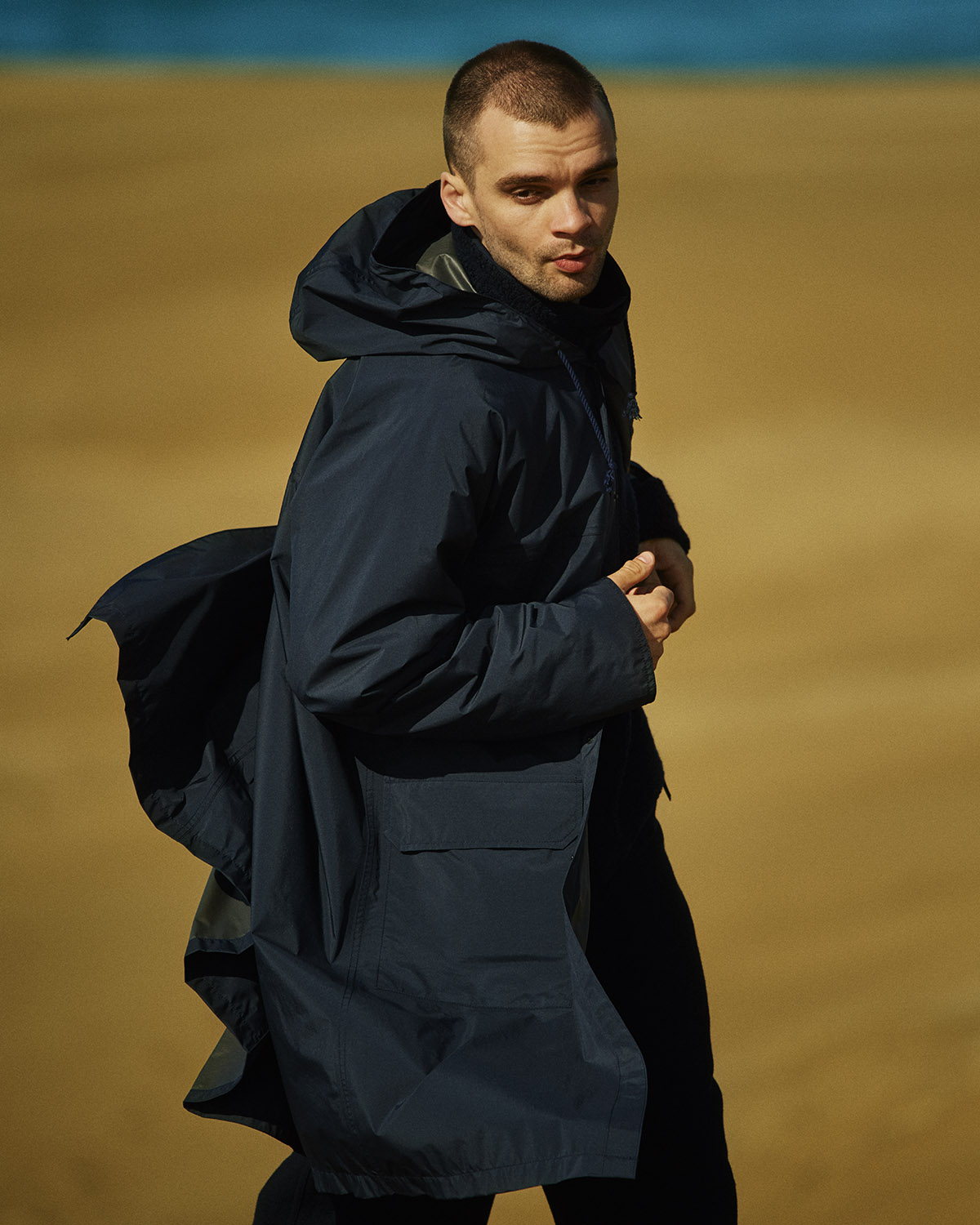 Wrapped in wool. The wool setup.
Setup made in hybrid material that keeps you warm in the winter with the power of wool and cool in the summer. Australian merino wool used as the backing for nylon polyurethane is approximately 40 times more moisture absorbing and releasing than polyester, so it releases perspiration from inside clothing. It is also thermal and antibacterial due to its natural immune function.
Club Jacket ¥39,000(+tax) SUAF001
Half Zip Sweater ¥28,000(+tax) SUJF040
Club Pants ¥23,000(+tax) SUCF003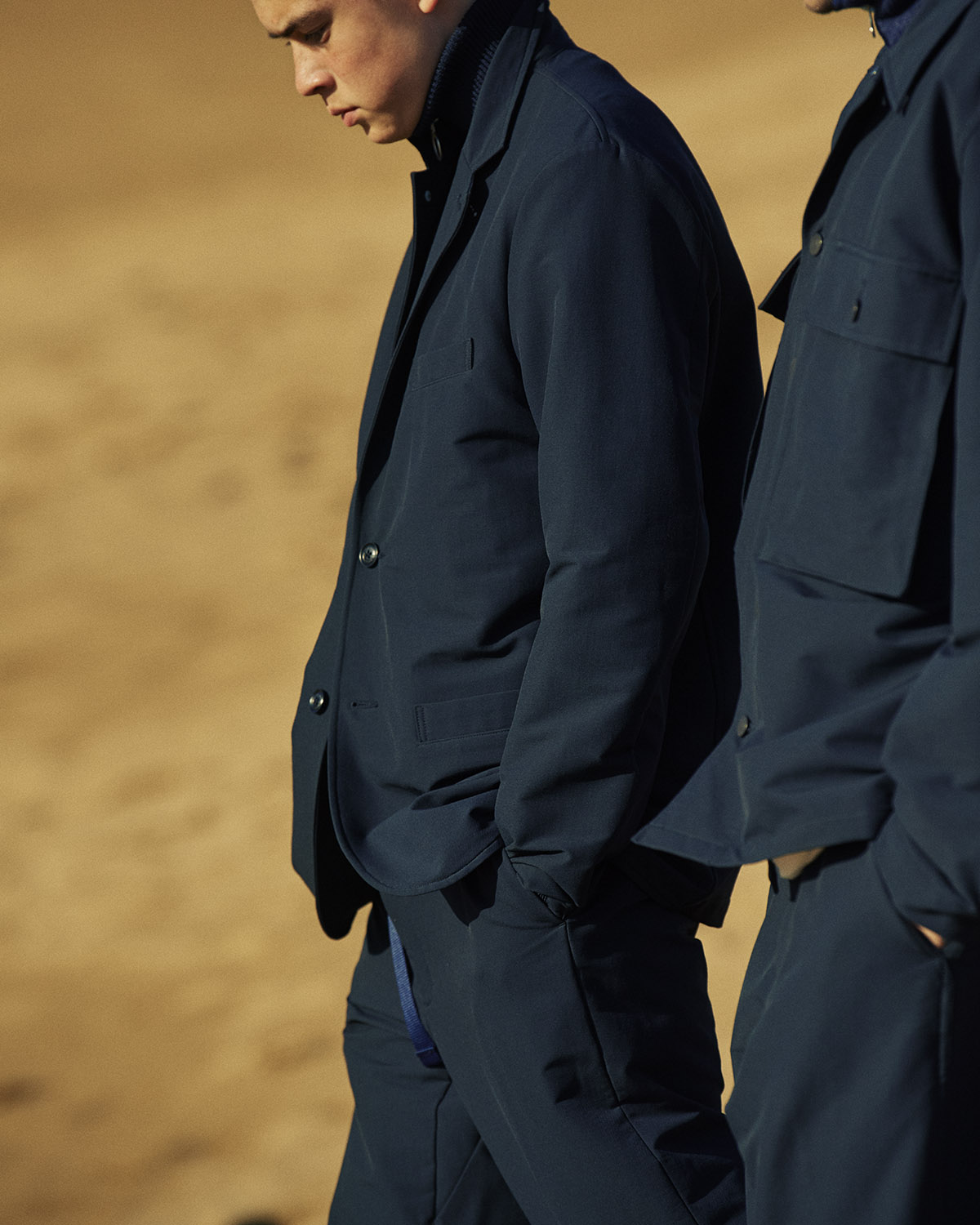 This jacket with a memorable breast patch is inspired by the US ARMY M-43 JACKET. It is also made in new hybrid wool material, with water-repellent processed nylon polyurethane that beads away water, and Australian merino wool providing warmth. Pants made in the same material is cropped at ankle length.
Utility Jacket ¥34,000(+tax) SUAF002
Easy Pants ¥25,000(+tax) SUCF004
nanamican Neck Warmer ¥12,000(+tax) SUKF070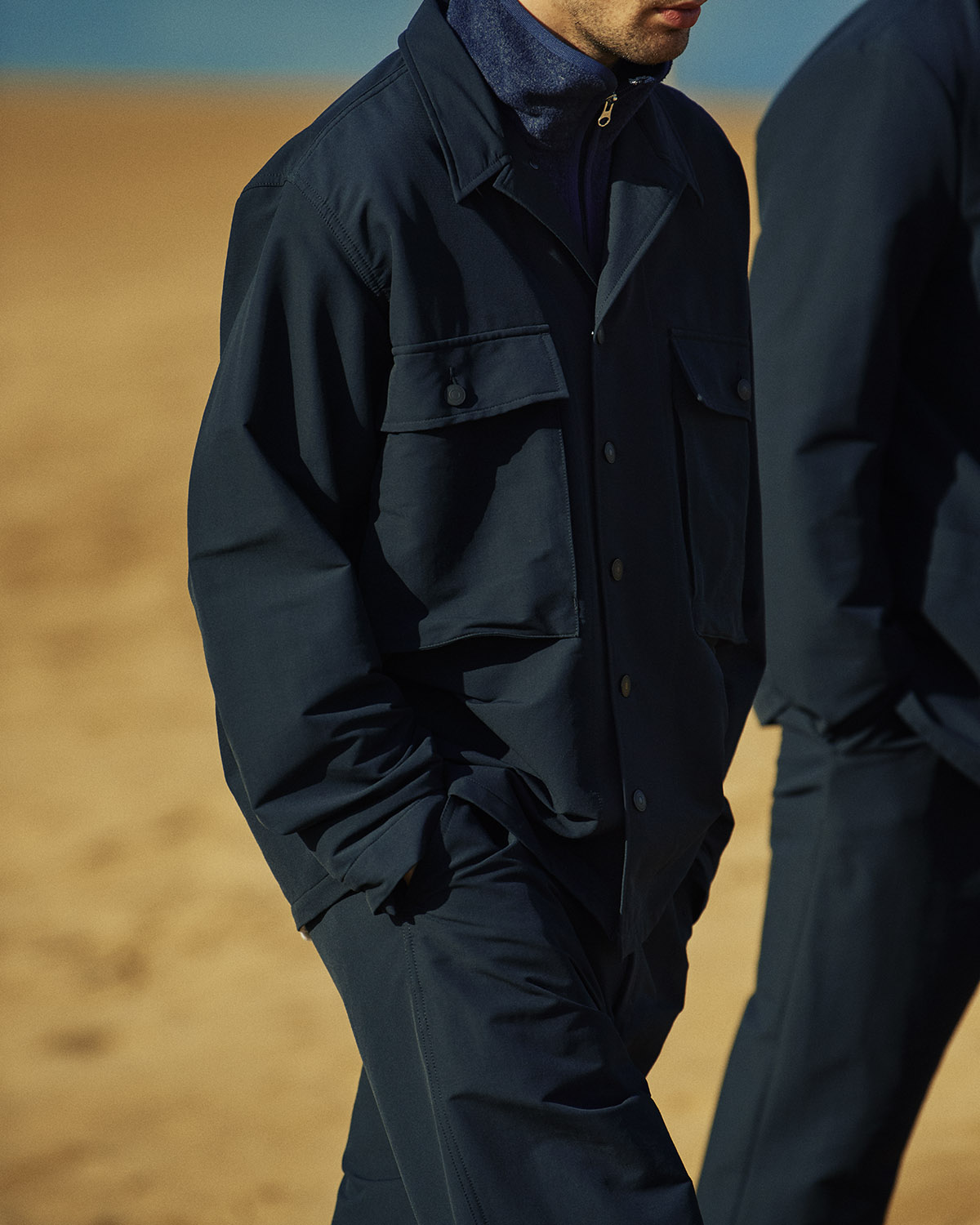 Form from the 90s with high-function down.
​​​​​​​
Down parka inspired by the 90s.
The stiff cotton poplin surface material is tailored not to show the down stitch, and polyester ripstop is used for the lining. The round form is a revival of 90s era design, while the down stuffing is high function KODENSHI®︎ down that maintains warmth with infrared rays.
nanamican Down Coat ¥77,000(+tax) SUBF069
Hooded down coat with raglan sleeves for easy wear. Flap pockets at the hip are in the style of the flight jacket CWU-45/P that was used by the US army, air force, navy and marine. Water resistant 2-layer Polyester GORE-TEX material is stuffed with KODENSHI®︎ down.
GORE-TEX Down Coat ¥79,000(+tax) SUBF043
The power of wool, nature's high function material.
​​​​​​​
Half snap pullover sweater made of nylon mixed with "kid mohair," the first shearing of young goats less than 1 year old. The hair is scratched to give it volume, enhancing wool's thermal and moisture absorbing qualities, so that the sweater releases sweat and maintains natural warmth. The surface texture is pure, soft and lustrous.
nanamican Pullover Sweater ¥28,000(+tax) SUJF064
Regular shirt made in mixed twill of polyester and wool. The collar and hem design and roomy silhouette are the same as the standard Regular Collar Wind Shirt, while the soft drapey fabric gives a light impression. Match with pants in the same fabric for an elegant setup.
Regular Collar Wind Shirt ¥26,000(+tax) SUGF021
Wide Pants ¥26,000(+tax) SUCF020
nanamica Loopwheel COOLMAX Jersey Tee ¥6,500(+tax) SUHF145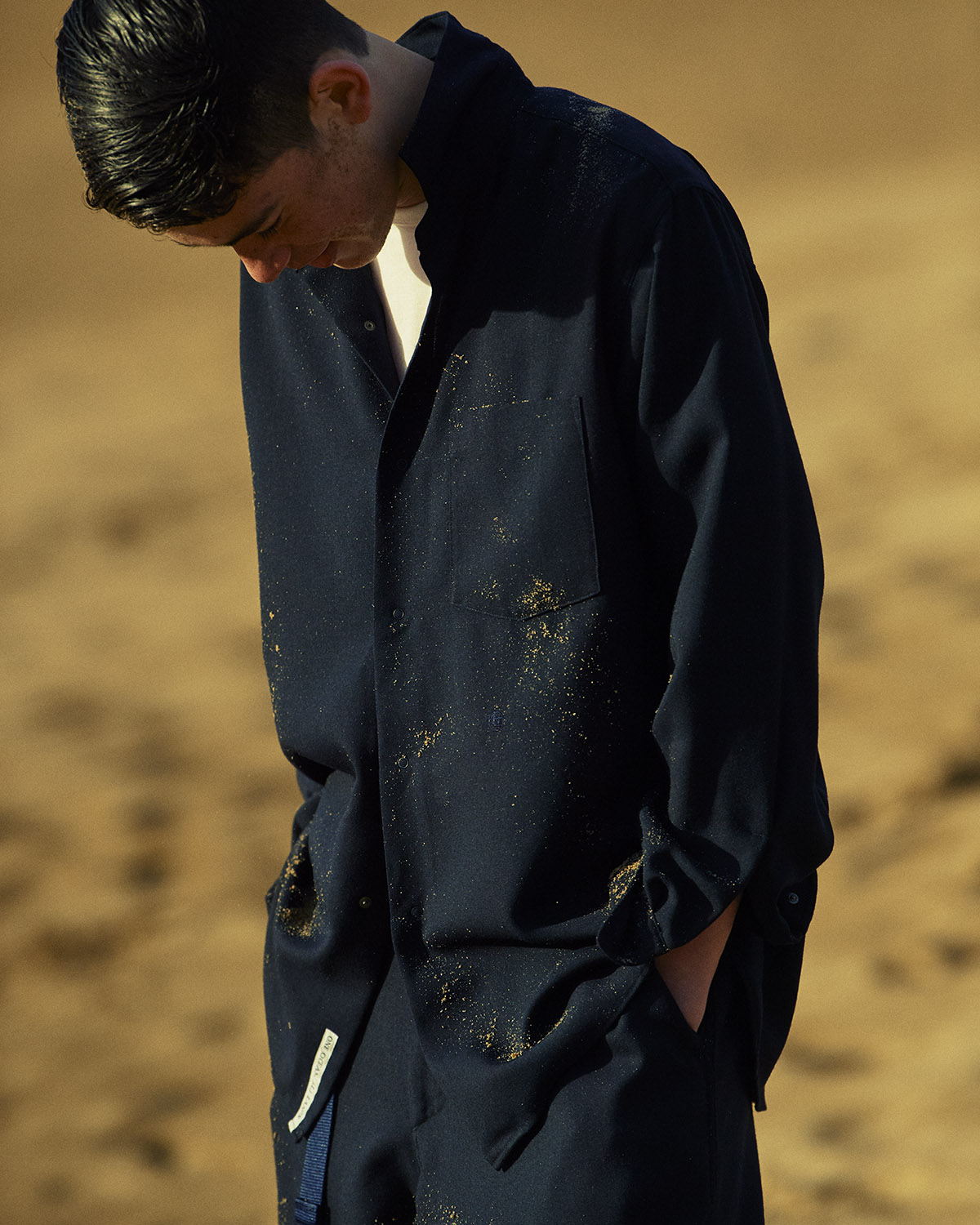 Zip-up parka using 2/80 wool pile. Wool fiber has cuticle-like skin called "scales," which shrinks and makes the wool like felt when wet. In order to prevent this, the silk protein is fused to the wool fiber using enzymes. The soft texture of this luxurious parka is created in this way.